PART 2: Vietnam – Asia's Next Tiger is Growing Fast
11/09/2017
STOCK MARKET BOOM
The Vietnamese stock market has grown at a robust rate over the past decade despite the GFC interruptions and local effects felt in the economy. The VN index hit its record high for nine consecutive years since May 2008, bolstered by strong liquidity and the continued foreign direct investment in the country.
Figure 3: Number of Accounts in the Vietnam stock market by year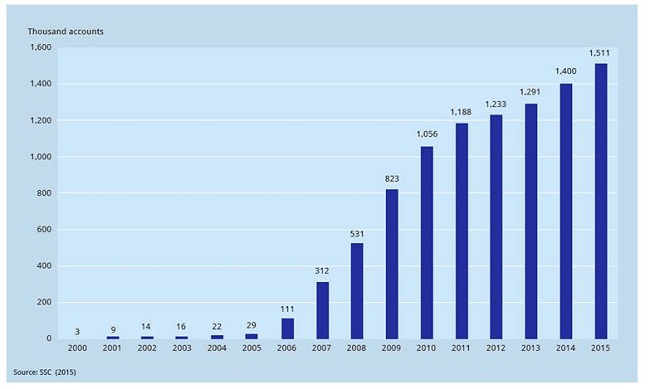 Source: SSC (2015)
A new law that came into effect in July 2015 allows foreign investors to take up to 100% ownership of publicly listed companies across a variety of sectors and state-owned enterprises (SOE's) if no other restrictions apply. This has created a surge in foreign investment in the Vietnamese stock market. Institutional and fund investors from financial centres in the region are seeing opportunities with the wave of large state-owned enterprises made available to public investment and stock-listed companies seeking capital for growth. Vietnam Airlines is an excellent example. An SOE undergoing transformation, Vietnam Airlines recently concluded a deal with Japan's largest airline, ANA, who acquired an 8.8% stake in Vietnam's state carrier. More of these acquisitions are expected when other SOE's follow suit. With the underlying key fundamentals of the economy and the encouraging demographics, Vietnam has emerged as one of the most promising stock markets in Southeast Asia.
REAL ESTATE INVESTMENT
The real estate investment scene has been opened to foreigners since the implementation of the New Housing law in July 2015. Foreigners can own apartments and landed properties for 50 years, with an option of renewal for a further 50 years. There is a foreign owner quota limitation of 10% on apartment projects and 30% on landed properties of the total available units and foreigners married to Vietnamese are eligible for freehold tenure.
This has boosted demand for residential properties in key cities across Vietnam. Ho Chi Minh City (HCMC), the economic centre of the country, has seen an influx of foreign buyers who are keen on taking advantage of the attractive prices in comparison to the home property markets in Singapore, Hong Kong or Taiwan (Figure 4). In addition, a lack of exclusive luxury apartments for lease for the growing expat population translates into high rental yields and promising capital appreciation which these foreign investors are looking for. Many of the luxury projects reached foreign ownership quotas quickly which shows a continuing demand for buy-to-let properties in Ho Chi Minh City and Hanoi.
Figure 4: Apartment Average Selling Price PSM ($) in Asia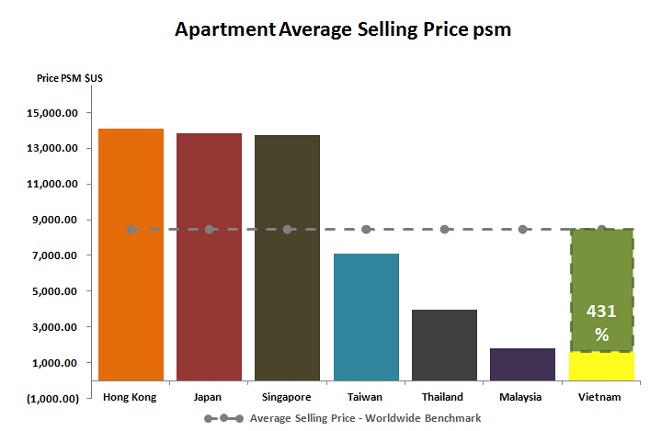 Source: Indochina Properties In-house research (2017)
The resort markets are receiving an equal amount of attention from foreign buyers. As an extension of the tourism growth, with 26% Y-o-Y growth rate in numbers of inbound travelers in 2016, many regular visitors invest in a holiday home in the popular resort destinations. With direct flights to Singapore, Hong Kong, Korea, Japan and many other key cities across the region, Danang is becoming the most popular holiday market. This is spurring a new wave of resort properties along the Central Coast – Danang, Lang Co and Hoi An – as well as other holiday destinations such as Dalat, Nha Trang and Phu Quoc.
Vietnam is no longer an insider tip for foreign investors and the potential is enormous to redirect investment from neighbours such as Thailand and Malaysia. The continued investment into infrastructure from metro lines to airports and roads as well as the investor-friendly environment make Vietnam a top contender as ASEAN's top investment destination.
Facts:
Vietnam Foreign Ownership Law Changes (effective from July 1, 2015)
Tenure: 50 years from the date the authority issues the house ownership certificate to the relevant owner with renewal possibility upon expiration.
Foreign individuals married to Vietnamese citizens are entitled to freehold tenure.
Eligible foreign entities shall have the tenure of ownership of apartment/house in accordance with the duration as stated in their business license/investment certificate.
Ownership limitation:
30% limit for Condominiums: Foreign organization and individual ownership of units in an apartment building may not exceed 30% of total units in one apartment building.
10% limit for Villas/Townhouses: Foreign organizations and individuals' ownership must not exceed 10% of the total number of separate houses for each project.
Purpose of purchase: The properties owned by foreigners can be sold, sub-leased, inherited and collateralized.
Transfer of ownership: 12 months after receiving ownership certificate.
Related post: Vietnam – Asia's Next Tiger is Growing Fast (Part 1)