PART 1: New infrastructure and high-end projects transforming HO CHI MINH City's real estate market
10/10/2017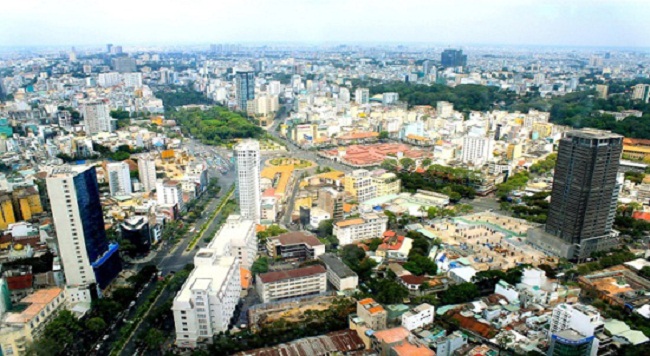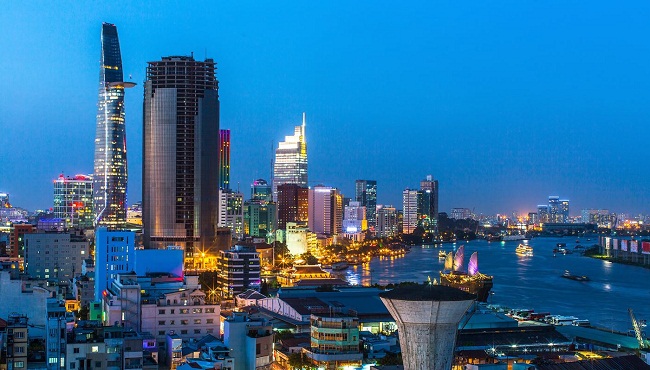 Photo: Ho Chi Minh City's skyline has changed rapidly between 2011 and 2017
Ho Chi Minh City, Vietnam's largest metropolitan area with a total population of nearly 14 million people, is the economic powerhouse of Vietnam and contributes almost one quarter to the country's GDP. During recent years, Ho Chi Minh City, dearly called Saigon, has witnessed substantial changes in its physical fabric. With government efforts to ease property regulations and improve market access for foreigners, Ho Chi Minh City has now become an attractive destination for real estate investment and development prospects. Recently, "Emerging Trends in Real Estate Asia Pacific 2016", a report jointly published by the Urban Land Institute and consulting PwC, has ranked the city fifth for investment and fourth for development, only behind such notable cities in the region such as Tokyo, Sydney, Melbourne and Osaka.
For those who have been here 10 years ago and recently returned, Ho Chi Minh City is almost unrecognizable with massive construction projects, new skyscrapers and expanding urban areas. With newly added leisure and commercial spaces, high-quality residences and new traffic infrastructure, the economic growth has transformed what was once a decaying colonial province into a modern mega city.
New Traffic Infrastructure
Walking in the central districts of Ho Chi Minh City nowadays, you can observe the construction of the city's first metro line, connecting the famous Ben Thanh Market, the Opera House and the upscale residential neighbourhood of Thao Dien (District 2) with the Saigon Hi-tech Park in District 9.. The metro system is expected to resolve the lack of efficient public transport and shorten the travel time from other districts to the city centre by half. According to a recent CBRE report, the metro line is exponentially pushing the land prices around the metro stations up, leading to real estate development boom along the first metro line in District 1, 2 and Binh Thanh District.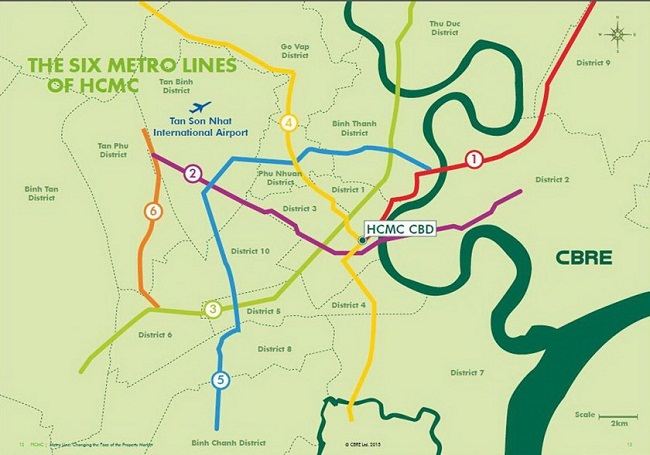 Photo: Ho Chi Minh City Metro Lines
Source: CBRE (2016)
Additionally, the long-awaited VND336.7 trillion ($16 billion) Long Thanh International Airport project was approved by the National Assembly in 2015 and is expected to reduce the over-capacity of Ho Chi Minh City's Tan Son Nhat Airport upon completion of the first phase in 2025. The new airport is reported to accommodate up to 100 million passengers and five million tonnes of freight a year. Since the official approval of this project, the land price around Long Thanh area has skyrocketed and property projects near the future airport have edged up 20-30%.
Apart from major transportation developments, Ho Chi Minh City has made considerable efforts to improve its urban infrastructure and solve the worsening traffic jam issues caused by a steady increase in vehicles on the city's thoroughfares. The new VND242 billion ($10.6 million) bridge connecting Truong Son Street and Tan Son Nhat Airport is forecasted to ease the heavy traffic around airport area. Moreover, to cater to the boom in new developments in District 2, Thu Thiem 3 Bridge is planned to connect District 2 and District 4.
In recent years, there have been multiple renovation projects to improve the city's environment and to serve citizens' recreation needs. After years of being badly polluted, The Nhieu Loc – Thi Nghe Canal, which runs for around eight kilometres, was cleaned up in 2014 through a World Bank-funded project; followed by the upcoming VND123 billion (approximately $5.5. million) Xuyen Tam Canal renovation project funded by Japan International Cooperation Agency loans.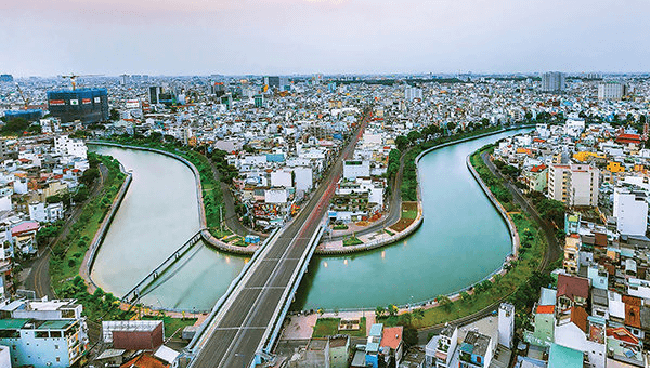 Photo: Nhieu Loc – Thi Nghe Canal after renovation
The vast amount of infrastructure spending is necessary to catch up with Vietnam's more developed neighbours such as Malaysia and Thailand and compete as a premier investment destination in Southeast Asia. With an average spending of 5.7 percent of GDP, Vietnam is far ahead of its regional peers who earmarked less than two per cent for infrastructure investments, according to the Asian Development Bank (ADB). The ADB estimates that Vietnam requires $480 billion in investment capital by 2020 to realize already planned infrastructure projects across the country.
The foresight in public infrastructure planning across Ho Chi Minh City has accelerate the city's appeal as an investment destination. If you compare HCMC to Jakarta, Manila or even Bangkok today, you will find a city that does not succumb to traffic jams during every rush hour. Instead most visitors are surprised that – albeit the perceived chaos on the roads – everything works just fine.This is encouraging more and more international property investors to focus their investments in the city.
New high-end residential projects
In recent years, Ho Chi Minh City has seen an increasing number of high-profile commercial and residential real estate developments, especially around the popular districts, such as D1, D2, D3 and Binh Thanh.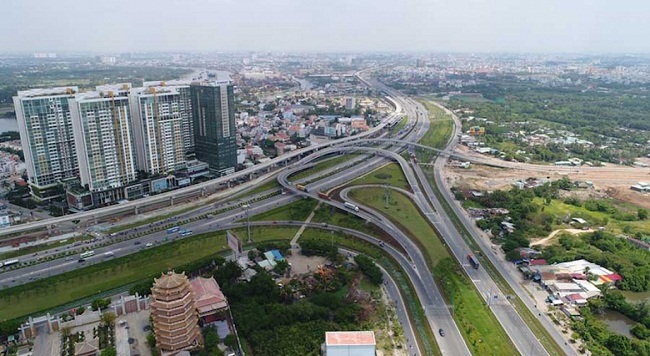 Photo: High-end residential projects in district 2
District 1
District 1 is considered the Central Business District (CBD) and rapidly becoming the premier choice for luxury residences in HCMC. Scarcity of freehold land for development has kept the availability of D1 apartments for sale at a tiny number of those in other areas. Moreover, until recently these were located in old buildings that have seen the best of days many years past.
In 2016, the residential CBD luxury project Vinhomes Golden River was launched and has seen tremendous success in terms of sales to both, local and foreign investors. The project is located on the site of the historical Bason Shipyard and will always remain the only master-planned riverfront community in the city-centre. With price starting from USD$4,500 per square meter, buy-to-let apartments will generate attractive yields of around 7-9 % per annum when completed and are promising exponential capital appreciation over the next ten years. This makes the project the perfect choice for foreign investors and expats living and working in Ho Chi Minh City which is clear from the fact that the foreign ownership quota of 30% is almost exhausted.
D1mension is the first internationally branded residence available for sale in District 1. Once operational, the property will be managed The Ascott Limited, one of the world's leading operators of serviced apartments and marks the map with its luxurious positioning in Ho Chi Minh City's real estate market. Developed by reputable Singapore-listed property developer, CapitaLand, this artfully designed project is positioned as a lifestyle product with exceptional facilities such as the glass-bottomed sky infinity pool overlooking the panoramic city skyline.
Before the year-end, District 1 is expected to see the launch of a considerable number of boutique luxury developments, both branded and unbranded, but with an array of extraordinary facilities, exclusive resident amenities as well as sophisticated design and architecture. Price levels are rapidly edging towards the US$6,000 per square meter mark which is still far below competing regional cities such as Bangkok or Kuala Lumpur.
Binh Thanh District
Just 5 minutes from the CBD lies City Garden, the distinct ellipse-shaped apartment complex offering resort-style facilities. The project stands out amongst the countless high-rise buildings in the area with its signature full-height windows and 360 degree views of Ho Chi Minh City.
Close to City Garden is the future tallest tower in Southeast Asia, the 461.2-metre high Landmark 81, which is eclipsing the Petronas Towers in Kualar Lumpur by 20 centimetres. The Landmark 81 is a part of $1.5 billion high-end and multi-functional development Vinhomes Central Park, featuring high-end apartments, a hotel, executive floors and 360 observatory decks. This skyscraper is well set to be the next signature building of Ho Chi Minh.
District 2
About 20-minute drive northeast of Ho Chi Minh City centre is District 2, the most popular residential area.With luxurious villas and apartments, various international schools, neighbourhood stores and fancy restaurants, it is attracting wealthy Western expats and the affluent Vietnamese community. The development of metro line no.1 running along the main Hanoi Highwayhas rapidly transformed District 2 from one of the poorest parts of the city to a well-planned new urban area. All eyes are on District 2 projects with D'Edge, Nassim, Gateway Thao Dien and Empire City leading the high-end segment.
D'Edge is a new development from Singaporean developer CapitaLand, comprises of three 25-storey towersboasting magnificent river views. D'Edge features a winding sky reflecting pool and contemporary architecture offering a quintessential mix of tranquillity and luxury. This riverfront project is in the heart of Thao Dien, within walking distance to British International School, international hospitals, shopping centres and supermarkets as well as fine dining restaurants.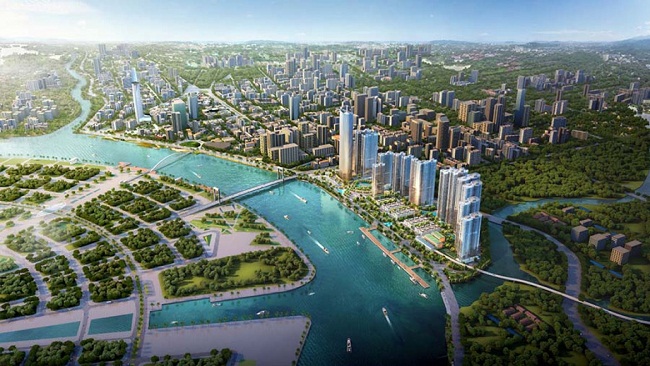 Photo: The Vinhomes Thu Thiem Super Project District 2
Closer to Thu Thiem Tunnel and the future Thu Thiem 3 Bridge is the riverfront project Empire City, jointly developed by Singaporean developers Keppel Land, Tien Phuoc, Gaw Capital and Tran Thai Group. With ultimate proximity to the current CBD and located in the new financial centre Thu Thiem – also referred as the new Pudong of Ho Chi Minh City, Empire City is promising to "redefine the modern living" in the city.
Related article: New infrastructure and high-end projects transforming HO CHI MINH City's real estate market (Part 2)