PART 1: Halong – Emerging Resort Market
30/08/2017
Halong Bay, Vietnam's most renowned UNESCO World Heritage site, has always been a must-see destination for tourists due to its iconic limestone islands topped by rainforests and stunning caves. Located in the Gulf of Tonkin, Halong Bay comprises of more than 1,600 islets and mini islands set in jade-like green water. The name "Halong" derived from a local legend of a dragon descending into the sea. Due to its mystical legends, irresistible charm and natural beauty, Halong Bay was officially named one of "New Seven Natural Wonders" of the world by New 7 Wonders Foundation in 2012.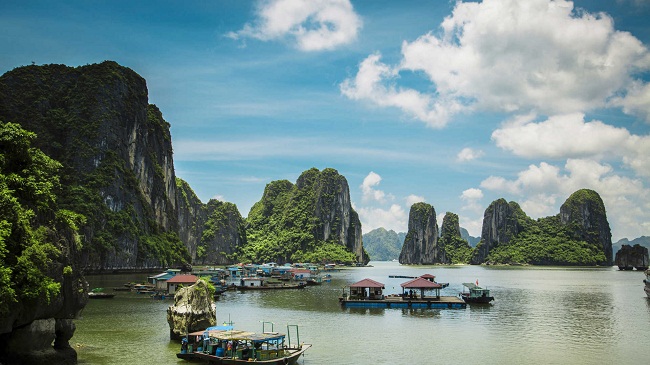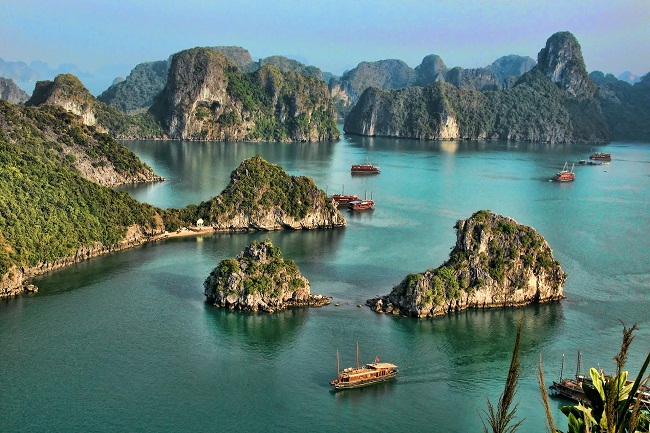 Photo: Halong Bay
Favoured by both domestic and international visitors, Halong Bay is best known for its boat tours and water sports, from scuba diving and swimming in the emerald-green ocean to sailing and kayaking. The region is also popular for rock climbing and hiking, particularly in the mountainous Cat Ba National Park. Apart from the famous natural sights and landmarks, the area also offers fascinating family entertainment with various theme parks, casinos, bars and fresh seafood restaurants, catering to a wide range of visitors. The UNESCO site receives a steady number of around 5 million domestic tourists every year. Meanwhile, the international market has shown a positive trend, with total international arrivals in the first 6 months of 2017 reaching over 2.08 million, an increase of 9% over the same period last year. Tourism revenue also increased 23% to VND8.366 billion.
The outlook is very positive with government efforts focusing on large-scaled infrastructure development. Currently, travellers wanting to visit Halong Bay need to fly to Hanoi before taking a three-hour overland trip. However, with the future launch in 2018 of Van Don International Airport, Halong Bay is set to become more accessible to foreign tourists and investors. This 290-hectare airport is worth USD331.7 million and will serve up to 5 million passengers per year. In addition, the upgraded infrastructure such as the Hanoi – Halong – Hai Phong highway connecting Halong with major cities in the northern area will fuel the tourism further. At the beginning of 2017, the Vietnamese government also approved a 3-year pilot program enabling Vietnamese citizens to gamble in some specific casino and resort complexes in Vietnam including Van Don Special Economic Zone.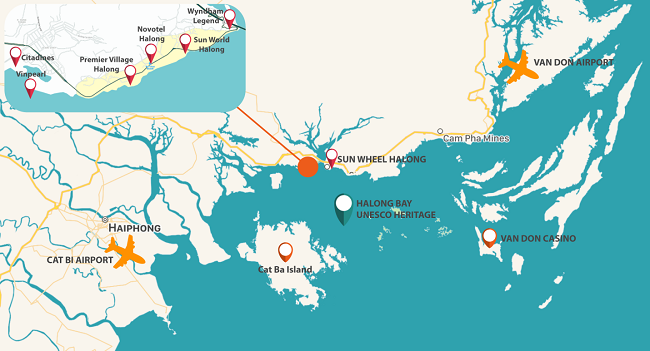 Photo: Quang Ninh Province with significant projects and developments
Despite the favourable foundation and fundamentals, Halong Bay still remains an unestablished resort property market. The positive outlook of this region and its international connectivity with key cities in mainland China and Hong Kong less than two hours flight away has caught the attention of discerning investors. "Halong Bay has always been the flagship tourism market of Vietnam, however, despite the area's relatively close proximity to Hanoi it has not yet transformed into a holiday home market. The development activity in the resort property segment is therefore very exciting and considering the increasing tourism to Vietnam and Halong Bay in particular will spur capital appreciation over the coming years as one of the most convenient locations for East Asian travellers", says Timo Schmidt, Head of Sales at Indochina Properties.
To catch up with the increasing demand for resort properties in Halong Bay, many leading developers in Vietnam, namely Vingroup, Sun Group and BIM Group have been making great efforts to transform Halong Bay into a promising holiday home market with multiple launches of high-end projects.
In 2016, Vingroup introduced Vinpearl Halong, a USD60 million five-star resort located on Reu Island, enabling 360-degree views to the turquoise bay and limestone pinnacles. Sun Group welcomed the Lunar New Year of 2017 with the launch of a 214-hectare theme park along the beach, overlooking the Wonder of Halong Bay, the Sun World Halong complex, including Dragon Amusement Park, Mystical Mountain Park and Typhoon Water Park.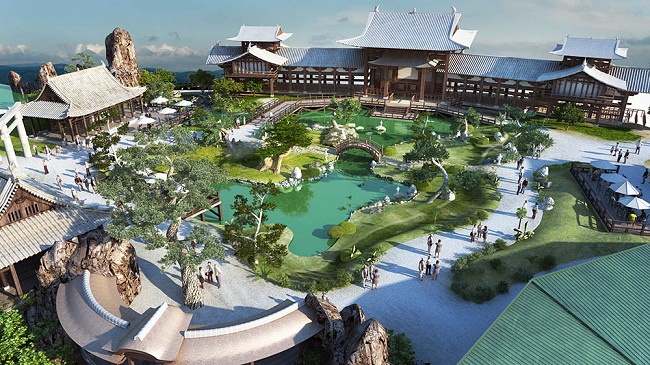 Photo: Sun World Halong Entertainment Complex
Related post: Halong – Emerging Resort Market (Part 2)